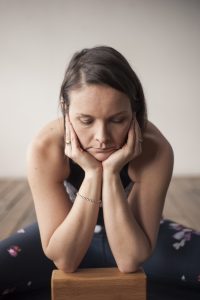 Anxiety can effect everyone, at any age and at any time. Here's some key stats from Beyond Blue as they launch a new campaign supporting anxiety awareness across Australia:
– Anxiety is the most common mental health condition in Australia
– Over 85% of people in Australia believe anxiety is not a sign of person weakness, is not something you can just 'snap out of', and is a real medical condition
– Everyone feels anxious at times, but when symptoms are intense, persistent, and interfere with life, it becomes an anxiety condition. The good news – there is hope and treatments that work
– The Beyond Blue website is packed with resources to learn more about anxiety, complete the Anxiety Checklist, and discover how to get support today for yourself or someone you know
Yoga can help!
Yoga is a beautiful and amazing way to help calm the mind and body, supporting the nervous system. Yoga helps to connect with your body and to bring awareness to your breath, mind and body.
The practice of body psychology or yoga therapy supported with yogic sleep (Yoga Nidra meditation) are a powerful combination to manage the symptoms of mental health including anxiety, depression, PTSD (post traumatic stress disorder) and insomnia (lack of sleep).
So if you experience any of these and want to experience and learn more about how you could live a life free of these, I'm hosting a 2.5 hour immersion at Westside Yoga next Saturday 27 August. Limited spaces available with only a few spots left so register today! For any questions, please feel free to email me to find out more!